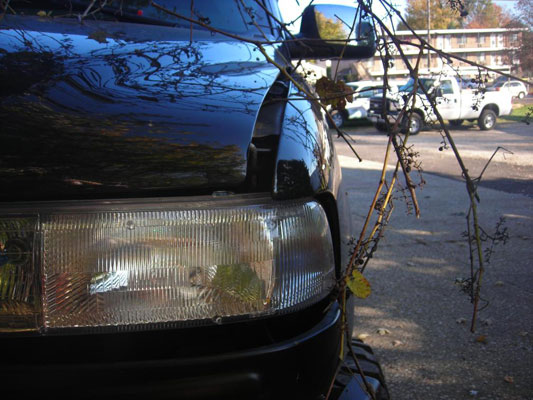 Though it's strange, but i really, really want to see it. I've always dreamed to see an accident happening live in front of my eyes. I really do see that as a sort of entertainment. Even my siblings felt the same. When we're in the car, every time we saw an accident, one of us will say, 'Sikit lagi..kalau mari awal sikit mesti boleh tengok
live
'. Weird? I don't think so. Do you realize that every time you saw an accident happened, there were a lot of people gathering around and trust me, they're just spectators. Only berape kerat je that will really help the real victim-of-circumstances. Sometimes, when an accident happened nearby our neighborhood, the first thing that i will do is to call my friends to check things out. It really did felt like the scene was the center of the world.
Alas, today was an unlucky day. This afternoon, i did saw an accident live in front of my head, but the victim was me. Hahaha...it was not really an accident, it's what we called as the pre-accident scene (Huh?). I went out to buy some Lychee cans for lunch. As i was reversing the car, the censor of the car was broken and no alarm was heard. Banng!. I say, 'Aik, pasu bunga mane plak aku langgar nie?' It was a motorcycle, fallen on the road, behind the car. It was just me and the motorcycle. At that time, i really though to do a hit-and-run scene, but i say, 'Relax dude, be professional'. The owner of the motorcycle came and you should look at his face when he saw his motorcycle on the road. I praised him for being professional too as he didn't get mad or didn't slapped me in the face.
The security of a nearby bank came. And hear this, you really don't want to have somebody like him nearby when you're in trouble. Both of the owner and me was cool, but this guy, this guy did get mad at me like the motorcycle was his. He had threaten me in many different acts. First, he took a picture of me and the plate number of my car. Then, he asked me to give him my I.C card. Then, out of nowhere, he get mad at me and told me that he'll call the police. What the heck? It's just a fucking scratch! (Now, i'm mad..haha). But i remain professional, rational and calm. After we discussed a few things, we'd agreed that i should pay Rm 40 to pay the damage done. I paid him immediately. The security guy continued to scold me throughout the conversation.
Then, the security guard asked me, 'Belajar kat mane?' After i said, 'MRSM Jasin', he remained silence since then.